Successful order of Dr. Horst Siegfried Werner in the economic press shown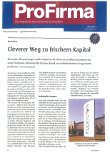 In the business magazine procompany a report appeared in May, 2011 to the fa Flexicon AG (18 euros of million turnovers) from hall / Westphalian with an interview of the finance board of directors and a tip to the accompanying financing adviser Dr. Horst Siegfried Werner about the topical successful procurement of capital for the called enterprise pleasure right capital of more than 1.5 euros of million company capital. - Capital for enterprise is realizable in spite of the restraint of the banks with the grant of credit in the participation market with investors and private investors.

To the reading of the successful report on the fa Flexicon AG you click on the above picture.