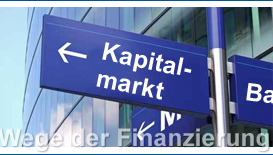 To the procurement of capital and by the enterprise financing independent of bank with investment capital without securities and without guarantees: Mezzanine financing as an investment capital without right to vote and company capital procurement for investments to the increase of turnover and yield. Capital for the rise of the liquidity, the credit standing or with the Corporate Finance offers you the Dr. Werner Financial Service AG with her more than 31-year-old experience: Ways for financing without house bank, special financing consultations and procurement of capital concepts:
- Financing for enterprise
- Mezzanine capital
- Pleasure rights/-scheine and
Pleasure right capital /
Change pleasure notes
- Quiet investment capital /
Quiet corporate capital
- Share capital - Prospektierung and.
Order according to BaFin
- Fund capital and project financing
- Loan capital and change loans
- Debenture advances and partiarische
Advances
- Private Equity/Mezzaninefonds capital
- Financing of the enterprise succession
and financing of the succession sales
- Appropriations/Bilanzoptimierung/
Added value by material insert
- Change of obligations in
Own capital / Debt-Equity-Swap
- Conversions of debts without bank
- Small Capital financing to approx.
3€ of million (small procurement of capital)
- Balance optimisation to the credit standing-/
Rating improvement
- ausserbörsliche capital market issue
- Money without loan and without SCHUFA
- commercial financing
- Growth financing
- Foundation financing
- Capital without bank
- Financing for founders

Our financing consultation without precosts to all alternative financing forms is valid in particular for financing without loan for middle class enterprise and family enterprise as well as for founders of a new business. Under certain constellations we offer financing about a stock society as an other enterprise to the spin-off (Spin out of vision), than finance company (e.g., as a finance holding company), as a fund society or as the second pivot leg. You discuss our finance lawyers with pleasure on your enterprise and finance structure - especially importantly just in times of the financial market crisis.